Uniseum Freiburg - Astonishment. Research. Educating.
A Catalogue
12 euros
Available in the Uniseum shop
Albert-Ludwigs-Universität Freiburg (ed.)
Dieter Speck (Author)
Promo Verlag, 2007
184 pages, format 22 x 30 cm
Paperback, German or English
ISBN 978-3-923288-52-6 (German version); ISBN 9783923288595 (English version)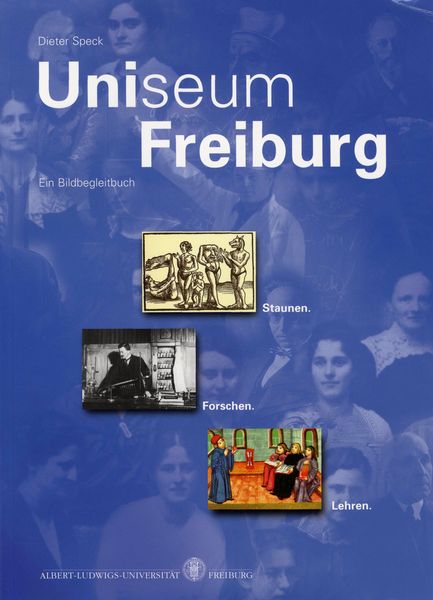 About the content
The catalogue is a handy edition of the Uniseum Freiburg to take away, to give as a present, or to simply read at home to relive the many impressions of Freiburg's university and scientific history.
The Uniseum Freiburg of the University of Freiburg is both a visually appealing museum and a novel forum for teaching and learning. Not only the history and tradition of the University of Freiburg are presented in its rooms. Through events, stagings, and its own activities, the Uniseum can create an entertaining dialogue with society, culture and economy. The focus is on research work and teaching since the beginnings of the University 550 years ago. Today, more than 23,000 students are studying at the University of Freiburg and it covers almost all fields of the humanities, natural and applied sciences, as well as medicine.
The catalogue is based on the structure and design of the Uniseum, its structure in century steps, topics related to the history of science and the Freiburg student history. In addition, the catalogue of Freiburg's most modern museum also conveys the same visual impression as the exhibition and offers a lively wealth of information in the catalogue "Astonishment - Research – Educating" of the University's Uniseum.